A total of 44 members and guests  attended the tasting in the hotel's La Senia Restaurant    The wines we  tasted were those that had received the most points by CBWS members during 2022.  We plan to start each year with a tasting of the highest scoring wines from the previous year and it was interesting to compare how these were scored by members on a second tasting.
The tasting of our 2 whites was together as they are the same grape, godello, and achieved the top ratings.  
Gargalo Godello 2021  Presented by Tim Fawle
This wine was presented in the October tasting of "Whose wine was it anyway" The Gargalo Godello 2021, is a young mono-varietal white wine -100% Godello produced by Bodegas Gargalo, DO Monterrei.
This small DO in the North West corner of Spain is little known and only has 26 bodegas. Bodegas Gargalo has received high points from Peñin for all their wines. Previous vintages of this Gargalo have all achieved 92 points and there is no reason to believe that this wine will be any different.
Again harvesting is carried out manually and the grapes are selected in the winery once the alcoholic fermentation is finished it remains in the same deposits for 4 months then bottled after clarifying and filtering.
Appearance – Bright yellow colour with a greenish trim
Nose – Fresh notes of white flowers, fruits, fresh grass and honey
Taste – Hints of Apricot, Mango, apple with a long prolonged after taste.
Casa de Outeiro, DO Ribeira Scara 2021 Presented by Tim Fawle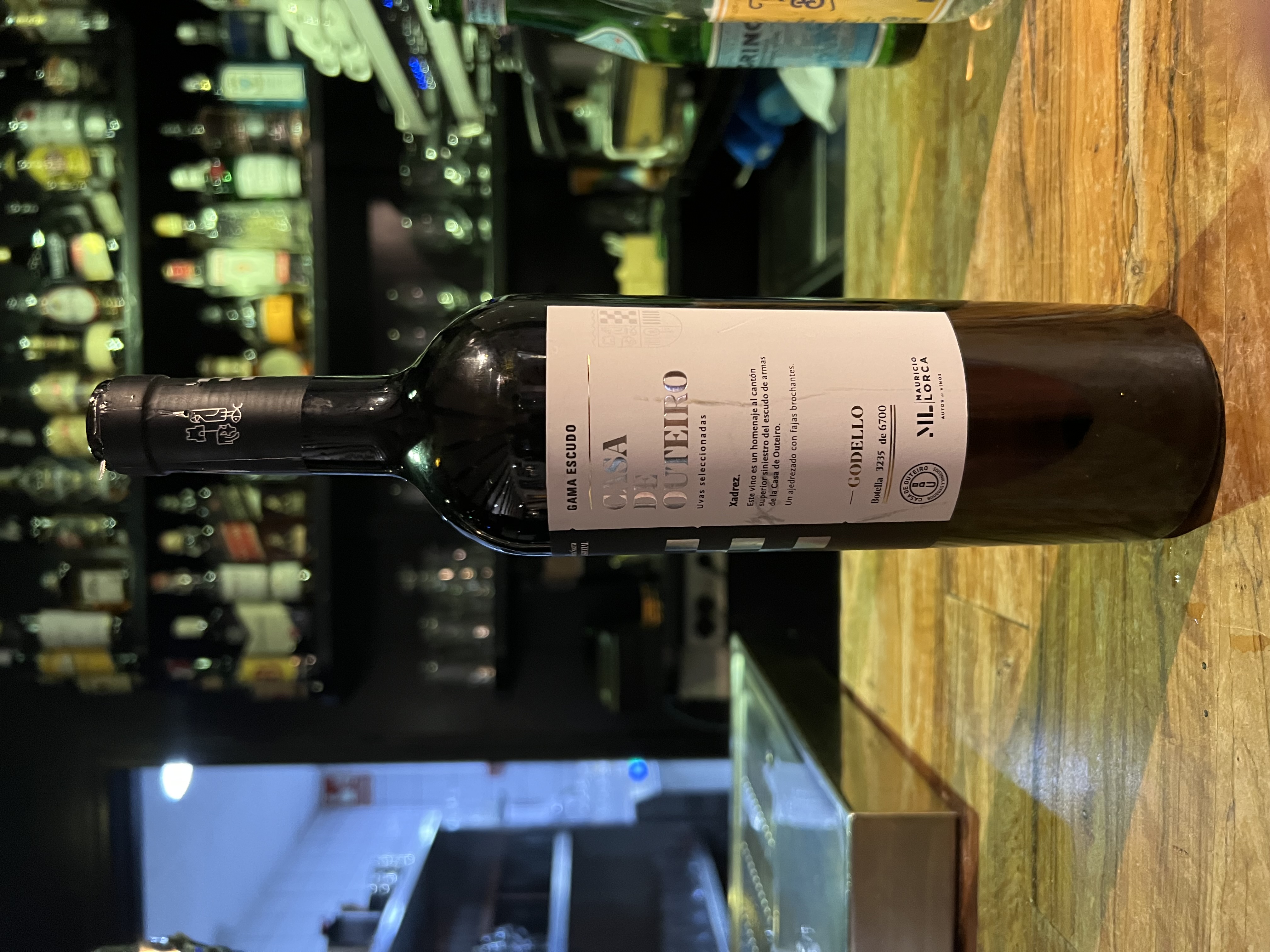 100% Godello 2020 – Rated Excellente Vintage which I presented last year after the AGM so I am pleased you rated this wine!
We are now tasting the 2021 vintage which has achieved 90 points from Peñin.
The Godello grape is a variety native to Galicia. This Godello comes from plots located in the Ribeira Sacra, specifically in Quiroga and Abeleda. It comes from relatively young vines aged between 10 and 20 years, hence the young and vibrant character of this wine. In Quiroga the vineyards are on gently sloping hillsides and in Abeleda on traditional terraces, typical of this region. All of them with a south-southwest orientation. Pebble soils in Quiroga and slate soils in Abeleda.
They make a manual selection of each bunch and do not use the skin in the maceration, since they look for the most fruity points of the wine.
It is a white wine that takes us back to a very warm vintage, with high maturation. It is the most honest expression of how the climate influences the wine in different ways year after year.
Colour yellow with green tints
Nose –green apple, citrus fruits and mineral aromas.
Taste- well structured, good balance of acidity and this wine will keep well to drink in future
Aljibes 2018, Vino de la Tierra de Castilla Presented by Mike Granville
Los Aljibes Winery is located in Los Aljibes Estate, in the municipality of Chinchilla of Montearagón, Albacete; this area corresponds to the Denomination of Origin Vino de la Tierra de Castilla. The winery building, which has got the typical La Mancha style, is surrounded by 178 hectares of vineyards, cultivated at an altitude of almost a thousand meters. Los Aljibes is devoted to elaborating expressive wines in which functionality and modernity blend perfectly offering great cultural value.
We have visited them on Wine Trips and further developed an excellent relationship with them with Zoom presentations.
Aljibes 2017 which we tasted last year has completely sold out so it will be interesting to see how we score the 2018. This is a blend of Cabernet Sauvignon (35%), Merlot (45%) and Cabernet Franc (20%) and is the Aljibes premier wine. The grapes are also the subject of a triple selection process and each grape variety is fermented separately. It is matured for 10 months in American and French oak barrels and 3 months in French oak vats. It has an intense cherry colour, with aromas of black and red berries combined with pleasant smokey/ black pepper notes. It has smooth mature tannins, good acidity, a very good balance and a pleasant long finish.
Martué Syrah 2019 , Bodegas Martue, Presented by John Sloggie
 Martue is a family-owned producer, based in D.O. Pago Campo de la Guardia, close to Toledo. The business was started in 1990, producing its first wine in 2001 and now produces around 15,000 to 20,000 litres of wine per annum from the modern technologically advanced winery.
From the 2018 Syrah vintage, 7,010 bottles were produced and has completely sold out. So let's see how we score the 2019 against the 2018  This wine is made with 100% Syrah grapes from the Campo Martuela and El Casar de La Guardia vineyards. It has a traditional fermentation with daily pumping over, followed by 20 days of maceration in tanks with the skins. The wine matures for15 months in French (80%) and American (20%) oak barrels.
The colour is garnet/cherry with violet hues.The nose is intense and complex, with hints of spices, kirsch, blackberry, black cherry, lavender, pastry, peppermint and graphite.
In the mouth it is full, fruity and complex, with an elegant combination of powerfulness and softness. The flavours identified on the nose are also evident in the mouth. The tannins are of medium texture with a welcome silkiness. The finish is long and pleasant. Overall, this is a very good wine bordering on outstanding
The combination of the fruit, acidity and tannins gives this wine an excellent balance, ready to be enjoyed now and capable of further evolution over the next few years It has not been subject to stabilisation or filtration, so may have a slight sediment in the bottle. It should be opened at least half an hour before serving. 
L'u Negre, Vinyes Mortitx, 2017.       Presented by Tim Fawle
This a Vino de la Tierra de Mallorca which was presented to us by Brian Howard in May at Les Rotes Denia hosted by Neil Robertson and Vicki Wyatt.
The bodega Vinyes Mortitx is an interesting winery producing 100m bottles annually. The owners of this bodega include several local restaurateurs so they not a co-operative of grape growers but a co-operative of owners employing a professional winemaker and team to run the estate which is a unique winery ownership model.
This tasting features the flagship wine blended from their best Syrah, Merlot, Cabernet Sauvignon. Manually harvested, and each grape-type fermented in separate tanks for 2 to 3 weeks. This enables each varietal to be picked in its optimum condition, always a challenge with blends. Blending then follows, with exact proportions varying from vintage to vintage, and then aged for 12 to 16 months in  French Allier oak barrels, new or 1-year-old.

The Lu Negre has Aroma highlights of crushed violets, roasted coffee and blueberry jam.  Tastes of intense rich fruit, filling your mouth with a dense texture of ripe berry fruits and well-resolved subtle spices. The whole experience is expressive, engaging, tantalisingly long, evolving into a silky, fruity finish and again featuring violets. Supported by a subtle presence of well-resolved tannins.
L'u Negre from Mortitx can rightfully claim to be a unique wine, yet with the elegant structure and poise of a Classed Growth Bordeaux, the blending alchemy of the best of Bolgheri in southern Tuscany (Sassicaia), and the intensity of a top Pesquera from Ribera del Duero. In Brian's opinion this wine will match any of the top wines from Bordeux, Tuscany and Pesquera from Ribera del Duero.
Always decant, at least 3 hours!